Høst er tid for nye bøker, strømpebukser og nå også faste bloggspalter. I anledning at bladene straks blir gule og slipper seg mot bakken starter jeg derfor en ny ukentlig spalte her på bloggen. Spalten skal inneholde det beste av feministisk lesestoff, filmsnutter og småtteri jeg har snublet over den siste uka. Enkelt og greit. Noe har du kanskje sett før, annet er kanskje helt nytt for deg. Uansett, litt mer plass på internett okkupert av andre ting enn slanketips og detox vinner alle på. Riots not diets.
Og i den aller første utgaven av spalten jeg har valgt å gi det klingende navnet "Feministsnacks" ut disse små karamellene:
Denne artikkelen fra The Wired der skribent og videospillentusiast Laura Hudson skriver om hvorfor hun elsker spillet "The last of us" og da spesielt tilleggskapittelet "Left behind" de slapp til spillet i våres.
Les: "The videogame that finally made me feel like a human being" her.
We don't just need more women in videogames — we need more women who don't fit in boxes. Left Behind isn't remarkable just because it meets a quota. Ellie and Riley aren't just concepts or good intentions. They're people: fully-realized, quirky, funny, dangerous girls. Ellie isn't there for anyone – to inspire, titillate or motivate them. Ellie there because she's herself, and for once, that's reason enough.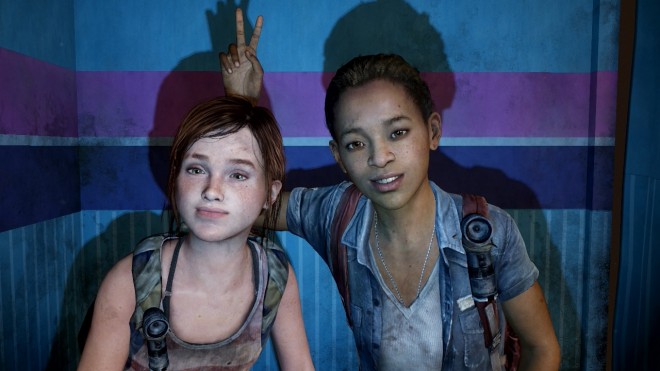 Dette blogginlegget til fantastiske Karinskonstgrepp. Blir aldri gammelt. (Dessverre).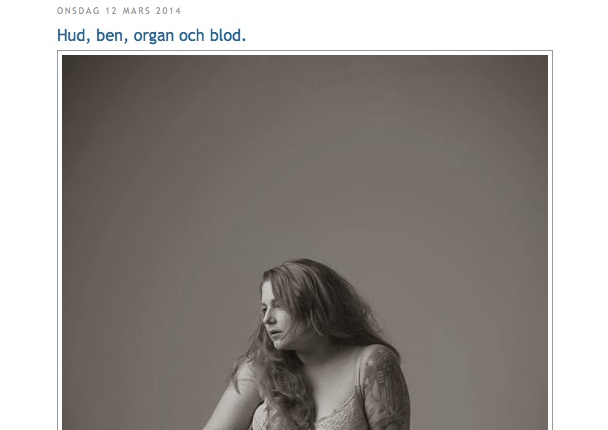 Kroppen på bilden ovan har blivit politisk. Den tillåts inte bara vara en sammansättning av hud, ben, organ och blod. För en kropp som skiljer sig så markant från den kropp vi annars ser i tidningar, i reklam och på film och som ändå inte skäms för sig måste försöka säga nåt va? Ska vi bara låta den existera okommenterad?
USAs visepresident Joe Biden har denne uken vært ute i amerikansk media og latt seg intervjue i forbindelse med idrettsutøver Ray Rices suspendering etter at han utøvet vold mot forloveden sin. Biden har engasjert seg i arbeidet mot vold i hjemmet i mange år, og sa blant annet følgende i et intervju med Today:
It's never, never, never the woman's fault. No man has a right to raise a hand to a woman. No means no. […] The one regret I have is we call it domestic violence as if it's a domesticated cat. It is the most vicious form of violence there is, because not only the physical scars are left, the psychological scars that are left. This whole culture for so long has put the onus on the woman. What were you wearing? What did you say? What did you do to provoke? That is never the appropriate question
Les mer her.
Dette bildet postet av @monkinodraw på Instgram, fra feeden til den fantastiske svenske Instagram-kontoen @kvinnohat.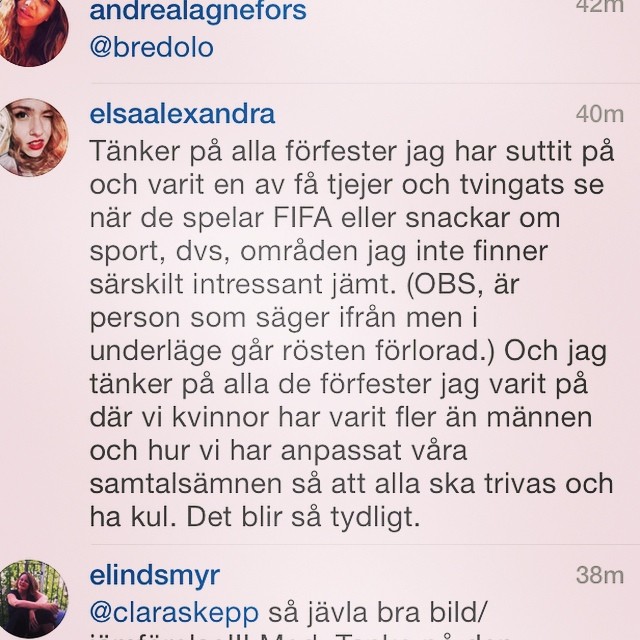 Inn og les!
Og bruk gjerne kommentarfeltet til å tipse om andre gode artikler, bilder, videoer, musikk eller innlegg du mener flere bør se.